Austria is a land of fairy tales, filled with magnificent mountains and valleys ... Gastronomy, art, culture and architecture are what this country can offer us.
The largest part of the cultural life of Austria is centered in Vienna, or in a city where you can see sophisticated Lipizzaners moving in the rhythms of classical music, where you can hear the choir of Viennese boys who bend their love for paradise, where you can enjoy an innovative and provocative theater, and music concerts. Incredible architecture is often combined with visual arts and performances, and the cultural experience of Austria is also made up of visits to undiscovered places, distant forests and grandiose castles. This country is incredible, whether you are visiting during the summer or winter, offering you many options to use, at least once in your life.
A visit to a foreign country is a popular trend in planning holidays nowadays, especially among rich people who enjoy a luxurious lifestyle. No trip to them is planned as it should if it does not include first class travel or stay in a very luxurious hotel. Austria has many luxury hotels in its offer, which make your stay an incredible experience, filled with enjoyment, relaxation and relaxation. This is our list of the ten best luxury hotels in Austria to visit if you are visiting this country.
10. Hotel Goldener Hirsch
In the classic baroque center of Salzburg, the city of Mozart and classical music, there is a luxury hotel Goldener Hirsch. This luxury hotel has a rich tradition and a glorious history of providing luxurious services to members of the elite, the so-called crème de la crème society, combined with the romantic magic of luxury of the 15th century. Luxury Goldener Hirsch hotel has a unique charm; each guest who is staying here is treated as a "friend of the house", as they call it. The hotel is quite small, with only 69 rooms - but each one is authentic, unique and luxurious. Each room is decorated in pure Austrian style and equipped with state-of-the-art facilities and amenities. Today, this luxury hotel is a place of meeting of an international society of rich businessmen and entrepreneurs.
9. Kempinski Hotels das Tirol
Kempinski Hotels das Tirol is an incredibly luxurious place, close to the famous golf course and ski resort. If you stay in this luxurious hotel, you will have the opportunity to enjoy a fantastic view of the Alps. All rooms are superbly decorated and equipped, every wish is fulfilled.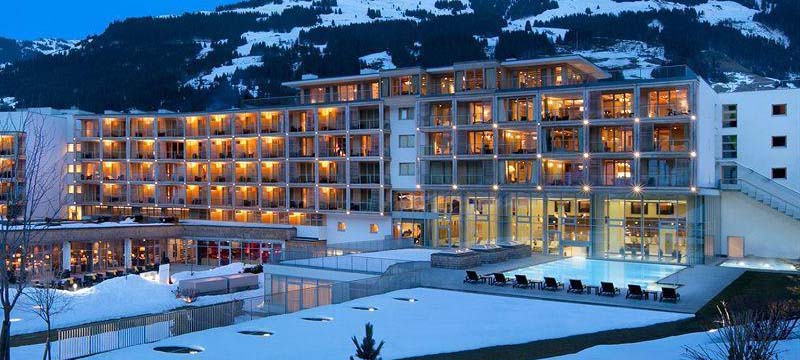 8. Thurnher's Alpenhof luxury hotel
The most exclusive hotel in the Alps is the Thurnher's Alpenhof luxury hotel. It consists of only 14 luxury rooms and suites. It has been owned by one family since its founding and is dedicated to winter sports lovers. You can visit Austria and stay at this luxury hotel only from early December to April each year. This hotel offers you tradition and hospitality at the international level. Within this luxurious hotel is a gourmet restaurant, one of the best in Austria. As for recreation, within this luxury hotel you can enjoy indoor swimming pool, sauna, Turkish bath, solarium and, of course, fitness center. All 113 rooms and suites are luxurious and unique, but they follow the same aesthetic template for decor.
7. The luxury hotel Sacher Salzburg
The luxury hotel Sacher Salzburg offers you a superior gastronomic experience in incredible spaces. In it you can enjoy Austrian and international cuisine, in addition to a very sophisticated and luxurious accommodation. This unique and charming hotel gives you the opportunity to plan and experience a holiday that you will remember for the rest of your life.
6. The InterContinental Hotel in Vienna
The InterContinental Hotel in Vienna is presented with its luxurious ambience. It consists of 458 completely renovated and redesigned rooms, on 12 floors, next to the prestigious hotel club. This luxurious hotel gives you access to an incredible luxury festive ballroom with a capacity of 10 to 800 guests, so that you can celebrate your solemn occasion with style.
5. Sacher Wien hotel
Next on our list is Sacher Wien hotel. This hotel is truly a synonym for luxury and high quality service. It is located in the heart of Vienna, close to all cultural and entertainment establishments. It is almost renovated, and it also has a luxury ballroom with a capacity of 100 people. In addition to the renovation of this hotel, the luxurious restaurant is in its part. Now it is equipped with black furniture with golden accents and incredible luxury decorations. This luxury hotel also has a spa center where you can relax and forget about your worries and responsibilities.
4. Historic hotel Scholss Fushi Resort and Spa
Historic hotel Scholss Fushi Resort and Spa is located on the nearby peninsula and has radiant beauty, with a beautiful panoramic view of the Alps and its lush natural surroundings. It was built as a hunting lodge for the Arhibiskup of Salzburg. Now, this luxury hotel has 110 elegant and sophisticated rooms and suites. Each room is richly decorated and equipped, radiates abundance and power. This luxury hotel also has a spa center as well as an incredible banquet hall. After being redesigned for seven years, this five-star hotel now has new luxury restaurants with luxurious kitchens and a completely new wellness area.
3. Grand Hotel
Grand Hotel is the number three on our list. This is where you can come across the "It" girls, the top of the high class and the many well-off people. The hotel has got a new style and look, and is now ready to fulfill any of your wishes, demands or passion. Modern amenities fit perfectly into the elegant, luxurious and sophisticated decor of this hotel. Otherwise, the hotel is located opposite the Vienna State Opera and the grandiose cathedral of Sveti Stefan.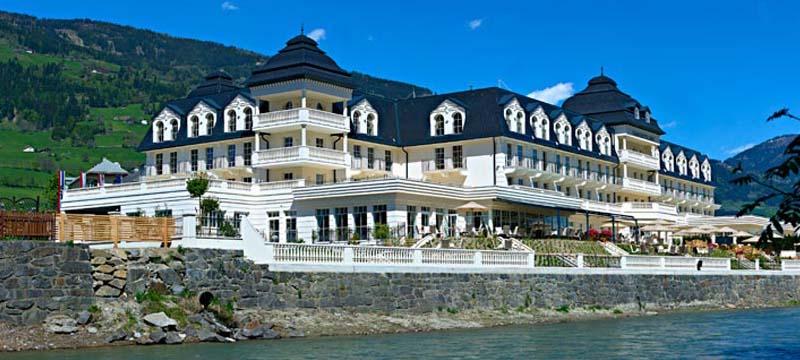 2. Hotel Bristol
Hotel Bristol deserved our number two. Here you can experience superb luxury, with a 24-hour concierge service, designed to fulfill your every wish, which is why you will remember your stay here for the rest of your life. This luxury hotel offers you a choice of gourmet restaurants with classic Austrian cuisine or international dishes. It consists of 140 perfectly decorated luxury rooms, in Art Nouveau style.
1. Kristiania
Absolute champion among Austrian luxury hotels is Kristiania. This is not a hotel intended for everyone. It is the embodiment of a mixture of precious tradition, modern convenience and modern lifestyle. When renting a room in this luxury hotel, you have the chance to experience the ultimate in excitement, designed to give you maximum scruples in every way. You can relax and enjoy privacy and peace in this luxury hotel, so nobody will disturb you in any way. This hotel has only 30 rooms and this is what makes it special. It combines high level of comfort with innovation and priceless high standards and personalized services. If you want to experience real luxury, this is the place for you.
All in all, Austria is a beautiful country, offering a handful of amazing things, all you need to do is pack up and choose one of these luxury hotels and go ...